Ladislav is an animal rights activist charged with illegal possession of arms, manufacturing of explosives, and terrorism for bombing in front of a McDonald's on December 28, 2011 in which there were no injuries. He was arrested on January 1, 2012. Reports indicate he was traced after almost a year when the police tracked down the producer of a timer found at the crime scene and also mail communications between Ladislav and the manufacturer. During a house search police found materials related to ALF and components for another bomb.
Appeals
He was originally sentenced to 25 years in 2014, but in 2016 his case was returned to the district court, the terrorism charges were dropped, and he was resentenced to 23.5 years. It was appealed and he was resentenced in 2017 to 10 years. In the latest ruling in early 2018, his sentence was extended by 2 years bringing the total sentence to 12 years. He will likely be released around the 11 year mark.
Mail Suggestions
Unoffensive Animal will mail letters submitted via their website for a donation: https://unoffensiveanimal.is/prisoner-support/.
Picture: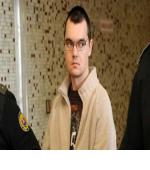 Birthday:
Tuesday, November 4, 1975
Mailing Address:
Gucmanova 19/670
Priečinoik 7
Slovakia