Pablo was arrested on February 9, 2021 and convicted by the Spanish court for song lyrics and tweets in which he was supposedly supporting terrorism, along with insulting the Crown and state institutions. Many of the tweets were actually about police violence and a lack of accountability in that area. For example, he wrote that Joseba Arregi, a former commander of ETA, had been murdered by the police agents who tortured him. This is an historic fact, but him pointing it out was part of the evidence they used to claim he supported terrorism. Pablo has been convicted for nine months. In Spain, prison sentences are not carried out when it is a first conviction and the sentence is under two years. But since Hasél has already been convicted for his lyrics, his earlier two year sentence will be added onto the current nine month conviction. Later, the court added 16 months to his sentence for non-payment of a fine.
Doubt has also risen about the impartiality of the judges in the cases against Pablo Hasél. One of them is Nicolás Poveda, an active member of the Falange, the political movement of general Franco.
"No one should face criminal prosecution only for expressing themselves on social media or for singing something that may be distasteful or shocking," says Esteban Beltrán, head of Amnesty International in Spain.
Picture: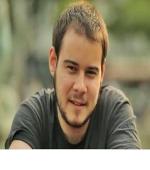 Mailing Address:
Centro Penitenciario de Ponent
Modulo 9
Calle Victoría Kent sn
Spain