Dan Baker is a social justice activist and former army vet. He went AWOL instead of fighting in Iraq, and then took his training to help defend Rojava with the International Freedom Battalion and was featured on VICE. Dan was also active during the George Floyd Rebellion and took part in CHAZ. He was arrested on January 15th, 2021 after the FBI compiled social media posts related to Trump supporters' actions on inauguration day to build a criminal case against him.
Dan was facing up to 10 years for two counts of transmitting a communication in interstate commerce containing a threat to kidnap or injure. He was sentenced to 44 months in prison and 3 years of supervised release. His legal team is appealing the verdict.
Mail restrictions: Letters must be single-sided and no more than 5 pages per envelope. No colored envelopes or photos are allowed.
Picture: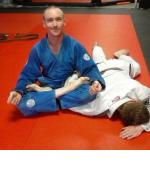 Birthday:
Thursday, September 17, 1987