Alex Stokes Contompasis is a journalist and artist from Albany, NY. Alex's work documenting social unrest began in 2014. He was arrested in 2017 in Washington DC during the J20 inaugural protests and co-represented over 200 counter-protestors and independent journalists that were rounded up and falsely charged. He was in Charlottesville, VA during the summer protests in 2017. He routinely attended and recorded Black Lives Matter protests in Albany in 2020. He also regularly revealed local white supremacist groups and members.
On January 6, 2021, protestors gathered outside the New York State Capitol in Albany, NY in support of the Stop the Steal rally in Washington DC. A handful of counter protesters spoke out against them and a melee broke out after a Proud Boy tased a Black man in the neck. Alex was watching from the sidelines and ran to help others. Police did not intervene until the violence had ended and ultimately arrested three Black activists. Alex was charged with several violent felonies. The Proud Boys that engaged in the violence were not arrested at the scene.
Alex's family and friends maintain that he was railroaded by the system. He was a journalist under a court-ordered gag-order for over a year. His previous work and experience with dangerous hate groups were inadmissible for his defense, but the prosecution picked apart his social media accounts and portrayed his actions as premeditated. He was found guilty on all charges and sentenced to 20 years in prison, despite the fact that no one died and neither of the victims received life-altering injuries. One even began a job as an EMT just 6 weeks later.
A man with no criminal history, and with lifelong ties to the community, was issued a sentence far more severe than most who commit reckless acts of violence.
********************************************************************************************************************
Statement from Alexander Stokes Contompasis January 6th 2023:
I am currently at Upstate Correctional Facility awaiting my appeal. I would like to thank my community for standing by me and putting together an amazing platform, highlighting the years I've dedicated to art, poetry, music, activism and journalism, in Albany, and in the greater Capital Region. My work shed light on the events leading up to the vile attack that was committed by a violent extremist group; a group who brought weapons to the NYS Capital building and assaulted a small group of peaceful protestors during the Insurrection on Jan 6, 2021.
It is well-documented that State Capital buildings throughout the country were under the threat of violence posed by extremist groups that day, in a coordinated attempt to harm, and even assassinate, elected officials, in DC and beyond. This was a major attempt to overthrow the election and destroy the continuity of government, ultimately uprooting the Democratic process, with the goal of installing a tyrant who was not elected. A mob who sent former Vice President Pence, various Senators and Congresspeople, fleeing for their lives.
A mob that injured over 140 police officers and murdered a member of the Metropolitan Police Dept. A group of extremists who brought that same violence to my city steps and attempted to murder members of my community. A mob who beat me to the ground and broke my wrists. I intervened in order to defend the lives of two Black men from a vicious attack.
I intervened in order to stop a dangerous assault on a small group of peaceful protesters who were simply trying to exercise their 1st amendment right in theirown community. These peaceful protestors are dear friends. I put my life on the line to protect and defend them from a violent mob; extremists who initiated a disgraceful act of violence, and have not been held accountable for their actions, to this day. The police have not charged this dangerous group of extremists who initiated the attack. The DA has actively attempted to ignore and cover up the violent crimes that they have committed and has knowingly allowed them to commit multiple acts of perjury in written statements, statements made to the Grand Jury and statements made at my trial, at the State Supreme Court level, engaging in numerous acts of Prosecutorial misconduct.
Thank you to everyone who has voiced their public support and helped raise awareness on this blatantly bias and heavily corrupted trial. A trial that has led to my highly immoral, illegal, and unjust 20-year prison sentence. I love you all. Keep the faith and keep fighting!
Picture: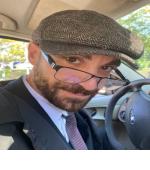 Birthday:
Saturday, February 26, 1983
Mailing Address:
Alex Contompasis #22B5028
Upstate Correctional Facility
United States