Albert Woodfox is part of the Angola 3, three Black Panthers, put in solitary confinement for decades in Angola Prison, Louisiana after being framed for the death of a prison guard. Robert Hillary King has been released. Herman Wallace was released October 1, 2013, re-indicted on October 3, 2013, and died on October 4, 2013 before he could be re-arrested.
Albert's conviction has already been overturned three times – most recently in 2013 – yet every time the state has appealed.
On June 8, 2015, U.S. District Judge James Brady ordered the release of Woodfox and overturned the second conviction for the killing of the guard. The order also bars a third trial from taking place. Four days later, a federal appeals court overturned Brady's decision and ordered that Woodfox would remain in prison until the matter was resolved.
Though it means some months before Albert will see his long overdue freedom realized, the court has granted an "expedited" status for the appeal. Oral Arguments are set for the week of August 31st. The State's written argument as to why they believe Judge Brady's order should be overturned is due on July 10th. Then Albert's team has three weeks to respond before the State is allowed a final rebuttal on August 7th.
Despite the overwhelming calls for Albert's freedom from the people, congressmen, NGO's like Amnesty International, and 3 legal rulings overturning his original conviction, the State continued their cruel campaign of vengeance against Albert for years. He was finally released on February 19, 2016. Albert thanked his many supporters and added: "Although I was looking forward to proving my innocence at a new trial, concerns about my health and my age have caused me to resolve this case now and obtain my release with this no-contest plea to lesser charges. I hope the events of today will bring closure to many."
Picture: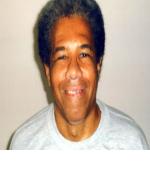 Birthday:
Tuesday, February 18, 1947