Red Fawn was arrested during a raid at Standing Rock, the blockade against the Dakota Access Pipeline, on Oct 27th, 2016, for allegedly firing shots at deputies from the Pennington County S.D. sheriff's department. Red Fawn is an Oglala Lakota Sioux and American Indian Movement member with family roots in the organization and it is believed she was targetted for arrest. Red Fawn is well-known and respected for her role as a medic and community leader at the Oceti Sakowin camp during fall 2016. An indictment filed on January 5th charges Red Fawn with felony counts of civil disorder and discharging a firearm in relation to a felony crime of violence — which, in this case, is civil disorder. These charges are in addition to an earlier charge of possession of a firearm by a convicted felon.
Her case was moved from Bismarck to Fargo, North Dakota due to the publicity that has surrounded both the opposition to the construction of the pipeline and to Red Fawn's arrest. If convicted of discharging the firearm, Fallis faced a minimum of 10 years and up to life in prison. Due to bias against activits in the jurisdiction, she accepted a non-cooperating plea agreement in January 2018. She was sentenced to 4 years and 9 months in prison.
Donations may also be accepted by PayPal to freeredfawn@gmail.com
She was released to halfway house on September 9, 2020.
Picture: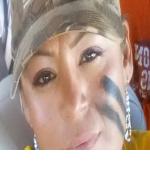 Birthday:
Saturday, February 24, 1979