John Paul Wootton is a vegan anarchist prisoner and IWW/IWOC member, wrongfully convicted of the murder of a police officer in the "Craigavon 2" case, after a trial before a "Diplock" court, a secret military court with no jury. The case has been supported as a miscarriage of justice by high profile campaigners, legal experts & human rights activists. The prosecution used discredited witnesses, inconclusive forensics, and tampered evidence to secure a conviction that does not stand up to scrutiny. Security services destroyed evidence, intimidated witnesses and defence lawyers.
Describing the case in his own words, he says:
"My name is John Paul Wootton and I am now twenty years of age and I have been imprisoned in Maghaberry prison for the last three years, that is, from I was 17 years of age.
On the 10th of March 2009, while still a teenager, I was arrested and interrogated for thirteen days in relation to the fatal shooting of Constable Steven Carroll in Craigavon on the 9th of March 2009. From the outset of this period of interrogation I made it clear that I neither knew nor had any part in this incident and indeed the duration of my interrogation was only ended when my legal representative took out a legal injunction.
On the 30th of March 2012, after a trial before a Diplock court, I was convicted and sentenced to a life sentence for the killing of Constable Carroll on the basis of a tracking device that had been fitted to my car at some point and which allegedly placed me at the scene of the shooting. However, the device in question, which had been placed there by members of MI5, went missing for a period of time and when it was finally recovered portions of the data allegedly recorded on the device were missing! These 'gaps' were supposedly filled by an MI5 operative who gave his evidence at the trial anonymously from behind a screen and his explanation for the data going missing was that, 'he had left it on his desk and someone had moved and then replaced it without his knowledge'!
Additional to the missing data, the examination of my car, during the period of the missing data, also produced a brown coat that had particles of gun powder residue on it. These particles did not match the rifle or ammunition recovered by the PSNI that was claimed by the prosecution to have been the weapon that fired the fatal shot which killed Constable Carroll. This coat, which was a central piece of evidence in the case, not only did not belong to me but it had no physical connection to me, that is, no traces of my DNA, fibres or fingerprints were found on the coat. In short, there was no physical evidence presented to the trial that linked me to this shooting rather a process of speculation and hypothesis that turned the legal principle of innocence until proven guilty on its head was applied.
During the trial my legal team attempted to tease out the anomalies of this case to demonstrate the complete lack of evidence against me, however, at each attempt they were met with the barrier of 'Public Interest Immunity Orders' being sought and granted to the prosecution. As a result of this crucial lines of inquiry about the movements of my car and the particles on the coat were denied to my defence.
As a consequence of all of the above I have instructed my legal team to appeal the conviction against me on the grounds that I did not receive a fair trial for the following reasons;
I was refused the right to a trial by jury and instead I was tried by a single judge in a Diplock court,
This single judge in the absence of any physical evidence against me resorted to negative inference and opinion,
Evidence which may have assisted my defence or undermined the case against me was kept hidden from my legal team through the use of Public Interest Immunity Orders,
Several witnesses were granted anonymity thereby preventing the defence from properly cross examining them.
I would like to thank you for taking the time to read this short description of what has happened to me and I would ask you to do all that you can to highlight this miscarriage of justice in the hope that I will get the chance of a fair trial at my appeal."
More writings by John can be found at https://325.nostate.net/tag/john-paul-wootton/
Picture: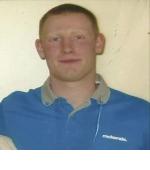 Mailing Address:
HM Prison Maghaberry
17 Old Road
United Kingdom