Kamau Sadiki is a former member of the Black Panther Party and was wrongfully convicted of a 30-year old murder case of a Fulton County Police Officer found shot to death in his car outside a service station. It is believed that he was targeted for refusing to aid in the capture of Assata Shakur.
Personal Background
At the age of 17, Kamau dedicated his life to the service of his people. He worked out of the Jamaica office of the Black Panther Party. A rank and file party member, Kamau worked in the Free Breakfast Program each morning and then went out into the community to sell the BPP newspaper later in the day. While selling his papers he continued to educate the people, while organizing tenants, welfare mothers, whomever he came in contact with. At the end of the day, he reported to the office. He wrote his daily report and attended political education classes.
At nineteen Kamau was a member of the Black Liberation Army (BLA). Several members of the BLA, including Kamau, left New York City and lived in the Atlanta area for a short period of time.
Legal Case
On November 3, 1971 Atlanta Police Officer James Green was murdered. On the night of the murder, two witnesses observed three black males run from a van where Officer Green sat at a gas station in downtown Atlanta. The witnesses failed to identify Kamau from a photographic line-up. There was no physical evidence that implicated Mr. Sadiki. In 1971, the Atlanta police department closed the case as unsolved.
In 1999, the FBI in pursuit of collaboration in their attempts to recapture Assata Shakur (the mother of one of Kamau's daughters), a political exile in Cuba, threatened Sadiki with life in prison if he did not assist them. When Sadiki did not comply, the FBI convinced Atlanta police to re-open the case and charge Sadiki.
In 2001, a former BLA member gave a statement about the 1971 murder after being detained during a traffic stop. With no eyewitness testimony and no physical evidence, the State based its case entirely upon the statements of three former BLA members who were present in Atlanta at the time of Officer Green's murder. Kamau was arrested in 2002 in Brooklyn, New York some thirty one (31) years later after the murder.
On November 10, 2003, Judge Stephanie Manis sentenced Kamau Sadiki to life imprisonment for murder and ten (10) years to run consecutively for armed robbery after a Fulton County Superior Court jury found him guilty for the murder of Atlanta Police Officer James Green on November 3, 1971.
Justice Denied at Trial
In addition to the lack of any physical evidence that Kamau murdered Officer Green, BLA member John Tomas' former wife's testimony was excluded from the trial. Her testimony would have included two conversations where others admitted their participation in the murder of the officer. Mr. Thomas who is now deceased, made statements exonerating Kamau and stated that he had nothing to do with the shooting. Judge Manis ruled such testimony by Ms. Thomas inadmissible and excluded the testimony from the jury's consideration. Judge Manis also included a conspiracy charge to the jury when there was no evidence of such and Judge Manis' admission into evidence inflammatory statements regarding Mr. Sadiki's participation in the BLA and allegations of misdeeds by the BLA.
Life in Prison
Kamau's two daughters graduated college and have families of their own. Because he suffers from Hepatitis C, Cirrhosis of the Liver and Sarcoidosis he has been held in a medical prison but continues to suffer from lack of proper healthcare. Mail to show support for him is encouraged and he also enjoys reading science fiction.
Picture: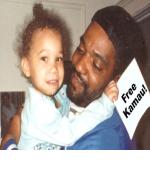 Birthday:
Thursday, February 19, 1953
Mailing Address:
Freddie Hilton #0001150688
Augusta State Medical Prison
Bldg 13A-2 E7
3001 Gordon Highway
United States