Born October 11, 1926, in Charleston, South Carolina, Mohaman Koti grew up in a very talented and skillful family, which consisted of carpenters, intellectuals, and business owners. With these accomplished people around, one would expect him to have had an easy upbringing, but this was not the case. Because of the ever increasing racial conflicts, injustices and class struggles that were prevalent during his time, Mohaman Koti forfeited the opportunity to enjoy an established life, like other social reformers during his time, by joining a liberation movement that would help the poor and disenfranchised advance socially, politically, and economically. His decision to help struggling people improve the quality of their lives resulted in his initial and current incarceration, and subsequently rendered him a political prisoner after his 1978 arrest; his name appears on the Jericho list of Political Prisoners.
In 1978, the police arrested Mr. Koti after a shooting incident that occurred in Manhattan. The factual circumstances surrounding the incident are not very clear, but what is clear is that during a physical confrontation with the police, where shots were fired, an officer was inadvertently injured. Fearing that police would kill him, he took refuge in a woman's apartment where he arranged his surrender after telephone calls with FBI agents and his lawyer, Susan V. Tipograph.
During court proceedings, he turned down a plea offer, which would have given him a prison sentence of 7 1/2 to 15 years in state prison. Instead, he proceeded to trial and received a sentence of 25 years to life. He was the oldest person serving time in the New York State prison system, before he was released in March 2016 and passed away just two months later in a nursing home in Staten Island.
Medical History
Mr. Koti suffers from a disease called Myasthenia gravis, also known as MG. This disease, chronic in nature, causes his immune system to react against his own tissues. Moreover, it renders his voluntary muscles weaker than normal, and causes him to tire more frequently than healthier people his age. Because of Myasthenia gravis, the muscles that control his arms and legs are affected, as are the muscles that regulate his breathing. Other symptoms include double vision, trouble swallowing, drooping head, poor posture, difficulty chewing and problems with talking. In addition, weakness and paralysis tends to worsen when Mohaman Koti exerts himself, while his muscle function tends to improve with rest.
There is no cure for Myasthenia gravis, and 10% of people with the disease die. Having this disease increases Mohaman Koti's potential for fatality because he also suffers from asthma, prostate cancer, diabetes, and heart disease, for which he takes 20 different types of medication to control. He is regularly in the prison hospital for these ailments, and frequently goes to outside hospitals for treatment. In the previous year, he spent five months in the hospital for a stomach virus, and three more months after surgery to remove a hernia; he lost approximately 30 pounds during these hospitalizations.
Legal Updates
Ten years after Koti was eligible for parole, he was profiled in a 2013 New York Times column about prisoners over the age of 60 who are denied release based on their original crime, instead of an accurate assessment of the threat they pose. It described a parole board hearing where commissioners had to repeat questions to Koti because he was hard of hearing. He suffered from several medical problems and used a wheelchair, but he was still found to be at risk of committing another crime. Koti was ultimately granted parole in September 2014, when a judge ruled the previous denials were irrational and called for a new hearing. Then, because of a pending bank robbery charge from the time of his arrest, he was ordered to serve an additional year in prison at a federal medical center in Butner, North Carolina. Mr. Koti was released from New York State custody in 2015 and picked up by the Federal BOP and remanded to Butner Medical Facility in North Carolina to complete a prior sentence.
Picture: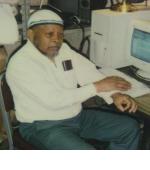 Birthday:
Friday, September 10, 1926