Maumin was accused by the U.S. government of being an El Rukn general and "terrorist," and was sentenced to life in prison under RICO laws. Originally designed to allegedly combat organized crime, RICO laws are being used to attack individuals, movements and organizations that don't subscribe to the political objectives of the U.S. government. He was indicted in August 1986 and arrested over 8 years later in 1995. Prior to his capture, Maumin had been working to develop ties within the Republic of New Afrika, much during extensive travel in Africa.
Maumin claims that he has been "A citizen of the sovereign Republic of New Afrika" and that his "secession from the United States of America is the motivating factor behind the government's prosecution" and has no criminal basis. He asks the court to recognize him "as a political prisoner in accordance with the Geneva Conventions of 1949 and Protocol 1."
Maumin suffers from C.O.P.D. (chronic obstructive pulmonary disease), severe emphysema and is asthmatic. He also experiences chronic back pain due to bone degeneration. Maumin was held at USP Terre Haute and had been requesting a transfer to a medical facility for over 5 years. It was only until a public campaign put pressure on the BOP that he was transferred to Springfield where he was given less than a year to live.
In 2013, he applied for and had a physician at Springfield sign a recommendation for compassionate release, but this was denied by the warden. As of 2015, he has less than 5% lung capacity, and relies on oxygen. He has applied for a lung transplant (his son has offered to give a lung), but was rejected. The BOP has changed physicians on him and has received a variety of conflicting reasons as to why he has been denied necessary medical treatment for the last few years.
Released on compassionate release on 2.15.22.
Picture: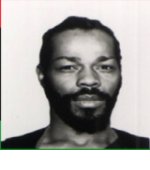 Birthday:
Saturday, September 14, 1957